Easy connections directly to Turku or via Helsinki
Below you can see how Turku can be reached from multiple destinations either directly or via Helsinki. Note that you can easily take your car with you if you travel by ferry via either Germany, Sweden or Estonia.
From the Helsinki Airport you can choose between the train and bus transportations, with a convenient two hour drive to Turku.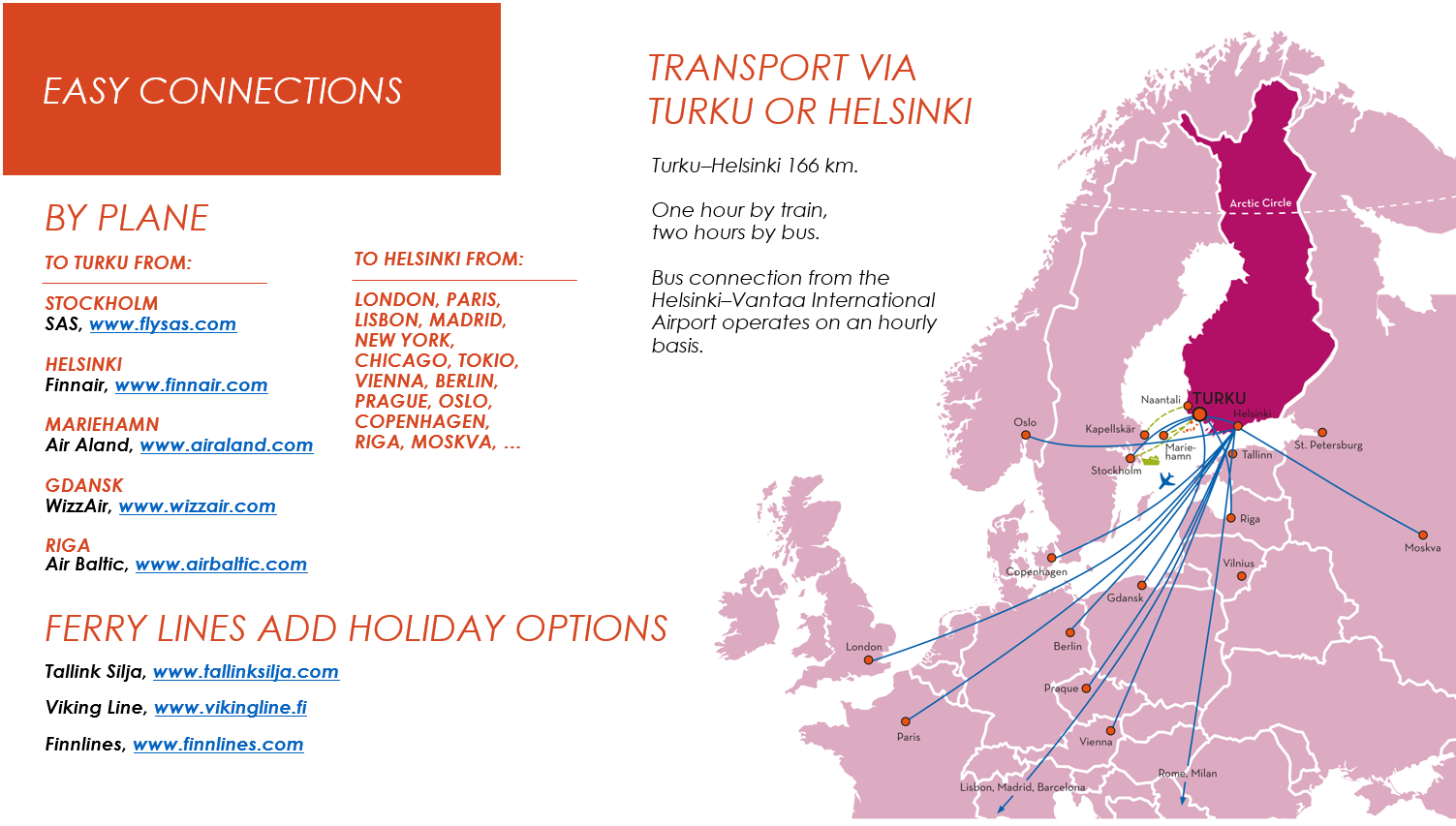 Turku and its archipelago offer you multiple holiday options
To participate the ICP2020TURKU gives you a great opportunity to have a holiday in Finland either before or after the conference. Our green and pure nature and the peaceful and quiet archipelago offer unique holiday options that differ from the mainstream holiday destinations. You are also free to take a trip to other Finnish cites such as Lapland, if you feel like seeing the midnight sun or experiencing the unique fishing and hiking options.
Let us help make your experience a unique one
The City of Turku is willing to do its best to offer you the holiday experiences you are looking for. Here are some ideas how to spend your time in Turku.
You can find multiple options also directly from the website of Visit Turku:  http://www.visitturku.fi/en. If you have any questions at all that are not answered by the website information, do not hesitate to contact Visit Turku at info@visitturku.fi.
Videos help to visualize Turku and its unique nature
We have preselected some videos for your convenience, if you want to learn more of Turku, its archipelago or perhaps the University of Turku as well.  Feel free to view the videos below.
Here's a video of the unique archipelago experience:
Here is an independent view of Turku as a holiday destination:
This video shows good views of the City of Turku:
This is the video made for the 2011 European Capital of Culture:
Here you can learn some critical things in Finnish:
University of Turku – the Campus that Never Sleeps